From the beginnings of a humble instant messaging app, WeChat has since evolved into a multi-faceted social media and payment service with over 1.2 billion active users across the globe. It is no surprise that WeChat is a highly coveted marketing channel for brands aspiring to enter the Chinese market. Still, some do not recognize its full potential and unknowingly stay at the tip of the iceberg. 
WeChat has extensive marketing functionalities that can help brands gain awareness and engagement: from its B2C ecosystem, advertising options, and ample database to its in-app payment integration. As an advanced feature, the platform can also host an ocean of miniature applications within the WeChat ecosystem. Since its introduction in 2017, mini-programs have brought major shifts in the Chinese digital ecosystem and are becoming an essential marketing feature in China.  
Read on to find out why you should incorporate mini-programs in your digital marketing strategy to reach Chinese consumers effectively and stay ahead of the game. 
What are WeChat mini-programs? 
Mini–programs are sub-applications smaller than 10 megabytes that run within the WeChat's interface, similarly operating like a traditional app without the need of downloading one separately. Marketers can transform their accounts into "apps" suited for a myriad of activities: from e-commerce stores, games, ticket booking, food ordering, to taxi-hailing – the list goes on. All these functions live within the WeChat ecosystem, making it a one-stop shop for customers to move down the sales funnel.  
Brands can also use the functions in WeChat, such as digital payment, live streaming, social gifting, and interactive maps in their mini-program. The wide range of service offerings makes them an incredibly impactful channel for brands to engage with WeChat's enormous user base.  
Here are five reasons why you should incorporate mini-programs in your marketing activities:  
Driv

es

 

e-commerce 

sales

 

 
The integration of WeChat as a social media platform, and WeChat Pay for transactions, makes e-commerce activities on mini-programs incredibly accessible. Users can browse, engage, and buy goods and services without ever leaving the parameters of the WeChat app. As customers are contained within a singular app right from inception, brands can create a seamless path to purchase and reduce the likelihood of leaks in the sales funnel. 
In China, e-commerce and live streaming go hand-in-hand. According to Statistica, approximately 617 million users in the country watched live streams in 2020, marking a penetration rate of 62.4% of all its internet users. Since the launch of mini-program live streaming last year, retailers have capitalized on this additional marketing channel by introducing products and hot deals to followers in real-time.  
During the height of COVID-19 last year, the multinational cosmetics retailer, Sephora, introduced live streaming to their mini-programs hosted by popular KOLs (Key Opinion Leaders) and makeup experts, appealing to those with high spending power with nowhere to go. Fostering a "see now, buy now" culture, users could participate in Q&As with KOLs and be directed to the product checkout page right after. Managing live streaming and transactions within one platform means all interactions can be monitored easily by merchants. As a result, Sephora's live streaming strategy attributed to a total sales growth of 235% compared to their campaign in the previous year, establishing the brand as a pioneer in live streaming within the luxury cosmetics retail sector.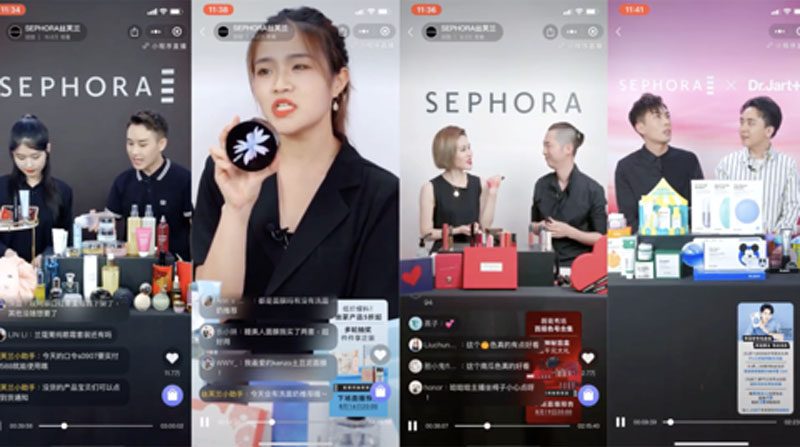 Enhanc

es

 

physical retail experience

 and brand 

building

 
Mini-programs are immensely valuable in brand building and for creating online-to-offline experiences. Retailers hoping to push in-person sales and encourage higher footfall in physical stores can integrate interactive components to make shopping experiences feel more novel. Many brands have included QR codes in-store for customers to scan product information and can directly checkout in the app to avoid any long queues and save time.  
Mini-programs are also helpful in creating digitally immersive experiences aimed at generating brand awareness. The iconic jewelry brand, Tiffany & Co, showcased an exhibition in Shanghai that allowed participants to stay hyper-connected from the moment they stepped inside the pop-up space. From digital ticketing, audio guides, and online games, the mini-program became an extension of the tour experience that engaged users and helped participants navigate through the brand's identity.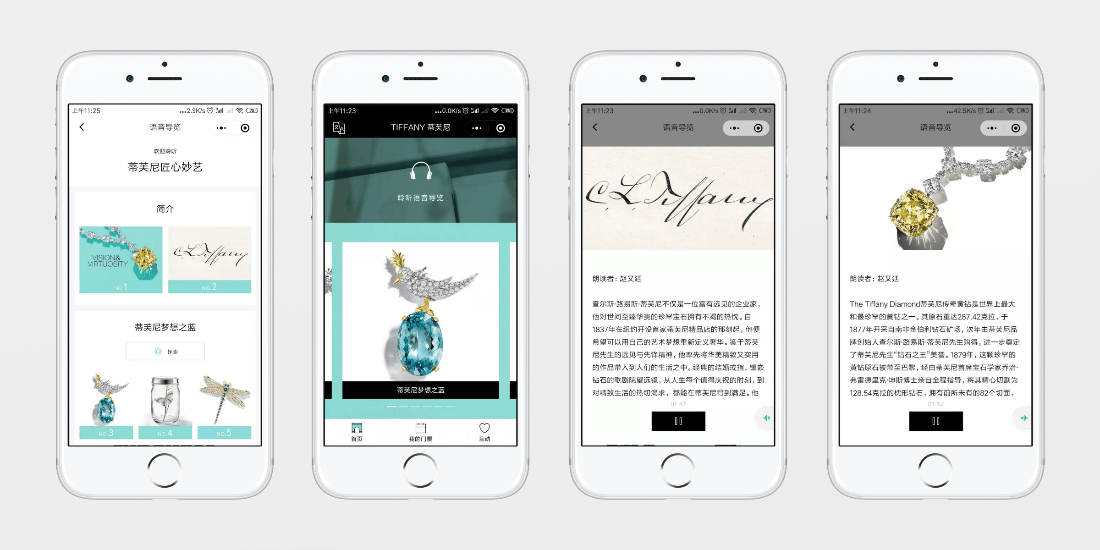 User

–

friendly and low barriers to entry

 
The goal of mini-programs is to create an efficient and consistent user experience that can seamlessly integrate with WeChat's ecosystem. This approach ensures fast loading speed and smooth UX integration so users can jump from WeChat to the mini-program easily. Users will not have to go through the fuss of learning a new interface every time a new app is downloaded or switch back and forth from WeChat. They are also available to anyone with a WeChat account, making them accessible anywhere, anytime, and with low barriers to entry. 
Achieve m

ore for less

: 

time and 

cost

–

efficient

 
Building a traditional app or website can be time–consuming and costly. Mini-programs are especially convenient for SMEs as they are much cheaper to develop than native apps and can be built with WeChat's framework using HTML, JavaScript, or CSS. Because of its small size, mini-program features are relatively limited and can serve as a market test without large financial and time commitments, especially when many Chinese e-commerce platforms like JD or TMall often require investment and an entity in China.  
On the rise and growing fast

 
Although mini-programs popularity has been rising throughout the past few years, usage significantly surged in 2020. The onset of Covid-19 has led to the population spending more time on their mobile devices and shifting shopping habits into digital. With over 400 million users regularly interacting with these programs, parent company Tencent saw a 45% increase in visits per capita and a 98% rise in usage in 2020, reaching a whopping $250 billion in revenue.  
Moreover, mini-program's vibrant sharing features mean that users can easily share a whole store or a specific item just like any other piece of content. Organic sharing lowers customer acquisition costs, and leveraging WeChat's user base creates virality opportunities, expediting sales conversions like no other digital platforms from the West. 
Mini-programs are becoming an essential part of online marketing for international brands aspiring to enter the Chinese market. The powerfully frictionless element of mini-programs makes streamlining omnichannel businesses cost-effective and straightforward. With its wide range of opportunities, brands need to establish the right approach to mini-programs to utilize WeChat's functionalities fully and grow their businesses.  
Are you looking to expand your brand in China using WeChat marketing strategies?  
Contact IMS today to find out how we can help you tailor powerful mini-programs to best suit your business needs.