The Framework proposed in this article enables brands to win the market by achieving unprecedented value-creation via a brand ecosystem. This brand ecosystem is data-rich, interconnected, and digitally driven; transforming business models with the tools and processes that put customers' needs at the forefront of decision-making. It extracts the mechanisms that allow platform business models to achieve innovation-led, scalable growth and applies them to almost any business model, in any sector. The result? A resilient business model that offers irresistible customer experiences, fosters innovative thinking, and delivers exceptional value to consumers.
COVID-19 has created a sense of urgency for brands to initiate digital transformation
To build resilient business models, brands should adopt value-driven and organizational-driven practices to unlock value creation
On a value-driven level, brands should adopt practices that help them become agile, refine their brand purpose, and create a web of digital touchpoints that serve the customer
On an organisational-driven level, brands should invest in technological infrastructure that supports these short and long-term business goals
A framework for building a resilient business model to navigate the long-term impacts of COVID-19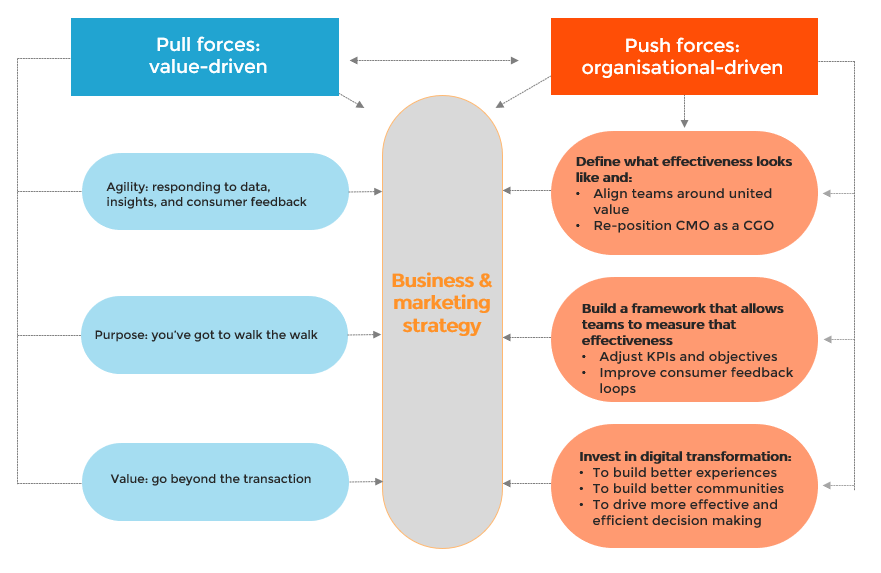 On a shorter-term perspective, agile thinking is crucial for brands to address immediate needs arising out of COVID-19, using consumer insights to drive agile, data-driven marketing communications. Through social listening, brands can identify nuances in consumer sentiment that can be woven into their content strategy and shine a spotlight on where they should focus their resources.
According to a Brandwatch survey, for example, consumers are getting increasingly frustrated by companies' inadequate customer service measures. Consumers posting about how a business had lost their custom hit 1.3m mentions across March and April, up 21% compared to January and February. Over half of these complaints were related to delivery.
Clearly, there is room for brands to improve their communication. Innovation and agility do not have to be complex: even simple measures such as increasing communication channels to improve customer service can make a difference. The problem is not so much the delays in delivery, but the lack of expectation-setting across the delays.
On a longer-term perspective, the COVID-19 pandemic calls for brands to rethink their purpose and evaluate how they want to be perceived by consumers. Consumer concerns about sustainability, ethical supply chain practices, or corporate social responsibility initiatives are not new, but the current climate is accelerating widespread trends towards customers buying the change they want to see in the world.
Chest-pounding is not enough. In one survey, 75% of people surveyed said that brands should not be opportunistic in exploiting the pandemic to promote themselves blatantly. Brands will need to think carefully about how they can adopt a "show not tell" approach that feels authentic and faithfully reflects their company-wide practices. Defining purpose is a company-wide initiative that aligns with the company's long-term vision, not an overnight marketing gimmick. Brands should evaluate their activities across the organisation to develop a narrative that faithfully reflects their position on the issues that consumers care about.
COVID gives brands a real chance to live up to brand purpose and be seen by consumers as empathetic and engaged. It doesn't mean that you suddenly have to start producing masks or sanitizers – it can be as simple as offering flexible payment, free shipping during shop closure or better customer service.
When brands get purpose right, they are able to add value to the customer beyond the transaction. How? They can rethink their roles as problem solvers first, and storytellers second. This helps make sure that customer needs come first and helps focus brands attention on creating superior value propositions.
Defining value beyond the transaction leads brands to consider how they can expand their offerings to build their brand ecosystem. An ecosystem brand is one that interconnects services, enabling users to fulfill a wide range of needs in one integrated experience (read more on ecosystem-driven growth). These brands are able to offer thrilling experiences that are hyper-personalised, creating long-term loyalty and generating word-of-mouth. Ecosystem brands can often leverage these different touchpoints as part of a profitable inbound marketing strategy, pushing down customer acquisition costs.
It's not just digitally native brands that can innovate by building brand ecosystems. Even organisations characterised by traditional business models can explore ways to expand their touchpoints to win and retain customers.
To be able to achieve all of this, brands will need to make changes on their organizational side. To support the initial value-drivers of purpose, value, and agility, organisations will first need to align their teams on what success or effectiveness looks like, and how to measure it. Marketers will be key in driving adoption of these initiatives, and will have to learn how to adapt to their new role. For example, marketers will have to evolve their language to communicate to their CEOs in business terms: presenting campaigns in measurable, tangible frameworks that illustrate how initiatives directly support company goals.
With data at the heart of this framework, organisations will need to ensure they have the right teams and infrastructure in place. Digital transformation, therefore, is key to supporting brands in the long-run. It will enable brands to offer better experiences, to build the communities they want, and to facilitate effective decision-making across every level of the company.
Expanding your brand ecosystem through value-creation is not just about adapting to consumer behaviours post-COVID-19, it's about strategically rethinking your customer experience. Brands who can use digital transformation to build an ecosystem that reinforces their brand value and delivers a better customer experience will ultimately be in a much better position to keep consumers coming back to them in the long-run.